PS4 Metacritic - 91
Xbox Metacritic - 93
Opencritic - 92
Meri 9.4
Resident Evil 2 va mucho más allá de ser una puesta al día de un clásico. Su tarea a la hora reinterpretar al original, redefinirlo y removerlo para sorprender a nuevos y veteranos es encomiable.
https://as.com/meris...232_902591.html
Vandal 8.8
Resident Evil 2 nos parece imprescindible para los amantes de los juegos de terror. Es un título con una jugabilidad excelente, momentos inolvidables y una puesta en escena increíble, y que nos hace soñar con el resurgir del survival horror.
https://vandal.elesp...make/32818#p-73
Packed with nostalgia, new challenges, complex and deep gameplay that doesn't just adapt but embodies the genre it's inhabiting, and a AAA presentation that blows every previous RE out of the water — yes, even REmake — I feel confident in this assessment: As it was in 1998, so to shall it be in 2019. Resident Evil 2 is the best Resident Evilgame ever made, full stop.
Whether you've been waiting all these years to revisit Raccoon City or happen to be a curious first-timer,
Resident Evil 2
is an essential must-have slice of video game horror, kicking off 2019 in style.
That's where Resident Evil succeeds. Not in the drivel spouted from its character's mouths, but in the bullets spewed from their guns. Or better yet – the clicking of empty chambers, or the spine-chilling scratches of scrabbling overhead. I may hate lickers, but I'm also a little bit in love.
Rock, Paper, Shotgun - Recommended

Though Resident Evil 2 has its roots firmly in the past, it reworks the familiar horrors into something that feels brand new and all its own.
Even better, it toes the line between schlocky and scary that the older Resident Evil games managed so well, and does so in perhaps one of the most atmospheric settings ever to grace a survival horror game.
It is pulse-pounding and a must play for horror fans, sometimes experimental but also superficial and rough.
For my money, Resident Evil 2 Remake is right up there with Resident Evil 4 as the best game in the series. It's the perfect blend of nostalgia and the new, marrying a classic game with contemporary game design, and a prime candidate for those Game of the Year lists. In January! Capcom clearly has no chill.
The experience of playing through the new Resident Evil 2 for the first time establishes a new standard for remaking classic games.
Resident Evil 2 paves a brilliant path for the future of the franchise.
And so barely a month into 2019, we have our first front-running contender for Game of the Year.
Resident Evil 2 is not only an accomplished remake that should serve as the blueprint for how to re-imagine beloved classics, but is an incredible game in its own right- so much so, that it might even stand as one of the very best games this venerated and decorated franchise has delivered to date.
This is Resident Evil at its absolute best.
The modern-aesthetic upgrade more than makes up for the game's lowest lows. Horror fans should immediately buy.
I hope every legacy game in the series gets this loving treatment, as I'll probably be playing them for the rest of my life.
Resident Evil 2
is the perfect sort of game for gushing. Much like the legendary
REmake
, this new version of a storied classic was
lovingly crafted by people
who not only have a collectively sharp eye for what makes an excellent video game today, but also possess a deep understanding of why the original
Resident Evil 2
is worth revisiting and what made it a game celebrated to this day. This isn't just an old
Resident Evil
molded into the new
Resident Evil
formula. It's a new take on
Resident Evil 2
that doesn't feel like it's trying to "modernize" or "fix" the original. It's more of an expensive, ludicrously polished tribute than a remake in the semantic sense, a project that has been in demand for years and quietly pursued for just as long. I'm glad it worked out so well.
It's a superbly constructed game.
The Resident Evil 2 remake is, indeed, the best Resident Evil game ever released.(...)Survival horror isn't dead, inform the press that Resident Evil really is back.
It's a good time to be a Resident Evil fan again.
A fantastic big budget remake of one of Resident Evil's most popular entries, that manages to look state-of-the-art but in terms of gameplay finds a perfect balance of old and new.
Bottom line, Resident Evil 2 is an outstanding remake and one you can purchase with confidence.
Resident Evil 2 is likely the single most excellent video game remake ever created and I'm hard-pressed to think of anything else that could even compare.
DualShockers - 9/10

JuexVideo - 17/20

More than just a simple remake of a cherished classic, Resident Evil 2 is a reinvigoration of the entire franchise, showing just how much life it still has left without the need to make drastic gameplay or stylistic changes. From start to end, this is a phenomenal showcase of old mixed with new, both giving players the chance to relive an important chapter in the life of the series under fantastic new conditions, while also potentially paving the way for Resident Evil for years to come.
I kept my expectations at bay with this game after Resident Evil 7, and I have to say that this is definitely a great way to ring in the start of 2019 for Capcom.
The biggest compliment that can be leveled is how the game manages to elicit the same sense of dread and consequence that made the original a classic whilst injecting just enough complexity and modern sensibility to see it emerge from the shadow of its namesake with consummate ease.
Considering there's little Capcom could have done to make Resident Evil 2 a better remake, capturing exactly what we love about the genre, we're left exceedingly hopeful for the franchise's future.
Resident Evil 2 is an entertaining romp through Raccoon City that no horror fan — old or new — should miss.
Resident Evil 2 is everything you'd hoped for and more, and is a truly essential purchase.
Whether you're a Resident Evil fan or you're looking to delve into the terrifying world of horror gaming, you owe it to yourself to make this iteration of Resident Evil a day one purchase.
Resident Evil 2 might be one of the most accomplished remakes of the generation.
This is horror game design as true craft.
The return to strong item management, survival and tense gameplay still works wonders. Level design alone is beautiful. Making for a fun experience for even long term "Resident Evil" fans.
Resident Evil 2 provides a new way to experience a classic and a very welcome reminder that the old style of Resident Evil is not dead. If anything, it's finally back.
Resident Evil 2 is more than a remake of a classic game, it's one of the most accomplished horror titles you'll play for a long time
By trying to please so many different players the game will probably not satisfy anyone completely
It's a love letter to survival horror, delivered direct like a bullet to the head.
Spectacular work and a must have.
The sense of fear and terror when playing Resident Evil 2 never leaves you. It's unlike anything else I've encountered in a Resident Evil game previously. I'm just going to go ahead and call it: Resident Evil 2 is the best Resident Evil game in the franchise and represents a series and developer at its peak. Don't be distracted by the pretty graphics and gore, Resident Evil 2 is straight-up dangerous.
It is terrifically paced between that heightened stress and more atmospheric exploration
Telegraph - 10/10

Eurogamer Italy - 9/10

GameBlog - 8/10

GameKult - 7/10

Play Zine - 9.5/10

Hobby Consalas - 92%

SpazioGames - 91%

Atomix - 95/100

Resident Evil 2 is a must-have title in your collection.
I strongly recommend Resident Evil to anyone who has the guts to play it.
All in all, Resident Evil 2 is a phenomenal remake that plays to the long-running franchise's best strengths.
It's only January, but RE2 may have already established itself as a serious 2019 Game of The Year contender.
Resident Evil 2 is loyal to the original where it counts, while also upgrading the experience with beautiful visuals and modern gameplay conveniences. It's so loyal that newcomers might find it a touch archaic, but for fans of the original, it's an absolute joy to play, and a fantastic horror game in its own right.
Whether you're a long time fan or a newcomer, Resident Evil 2 remake is an absolutely fantastic game. It's the best in the series yet and wholly outshined my most optimistic expectations.
I'll also make this claim: it is no longer a given that the often exalted Resident Evil 4 is the best Resident Evil to date. I'll gladly argue with anybody who is willing that Resident Evil 2 is better. It is my hope that this debate lasts until the next Resident Evil game that, if Capcom is smart, will use this nearly perfect game as a guideline.
Resident Evil 2 has always had the best moments in the series and plays to the strengths the franchise excels at. Going all-in on the horror serves a purpose and propels the series forward, the action takes a backseat to tense encounters with zombies and monsters out to kill you. Whether this is the tenth time or the first time you're experiencing this game, you won't be disappointed with this wonderful remake of one of the most iconic games of all time.
Console Creatures Review

REvil: 8.5/10
The Enemy: 4/5
Voxel: 93/100
UOL Jogos: 10/10
IGN Brasil: 100/100
Adrenaline: 9.5/10
Combo Infinito: 9.0/10
Tech Tudo: 9.8/10
Última Ficha: 9.5/10
Critical Hits: 9.0/10
MeuPS4: 4.5/5
PSX Brasil: 98/100
Easy Allies 9/10
https://www.youtube....h?v=-a1x_2NCaPg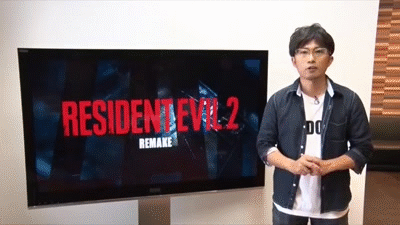 Editado por Game Over, 23 enero 2019 - 16:42 .