TOMB RAIDER: SURVIVOR'S CRUSADE #4
Jackson Lanzing (W), Collin Kelly (W), Ashley A. Woods (A), Michael Atiyeh ©, and Hannah Fisher (Cover)
Lara Croft is cornered. By visiting a remote temple discovered by her father, she walked right into Trinity's trap. But Lara knows this shrine's pitfalls like the back of her hand, and the ultimate survivor will do whatever it takes to escape and continue her search for the truth about Richard Croft's death.
32 pages, $3.99, in stores on Feb. 14.
*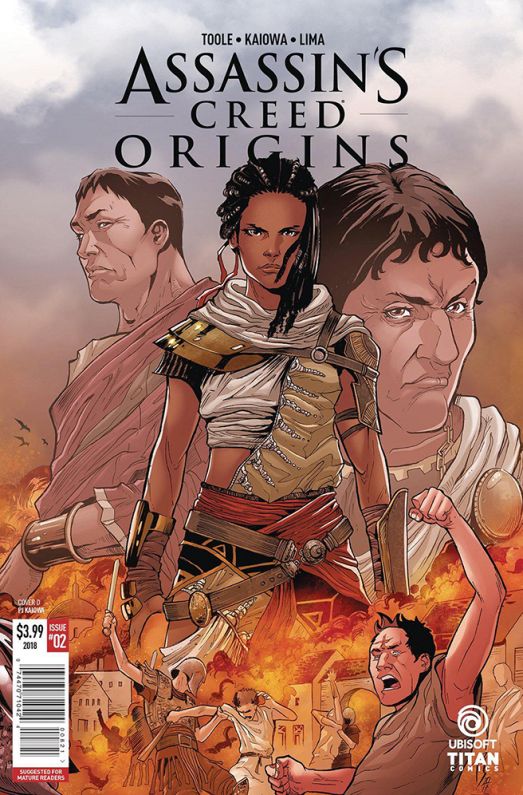 ASSASSIN'S CREED ORIGINS #2
Writer: Anthony Del Col, Anne Toole
Artist: PJ Kaiowa
32pp • $3.99 • On sale Date: February 7, 2018
Direct tie-in to the brand-new videogame, Assassin's Creed Origins!
Witness the very beginning of the Assassin's Creed!
COVER A: REGULAR COVER: PJ Kaiowa
COVER B: Tony Infante
*
http://meristation.a.../topic/2924394/
BLOODBORNE #1
Writer: Ales Kot
Artist: Piotr Kowalski
FC • 32pp • $3.99 • On sale: February 21, 2018
A brand-new comic series spinning out of FromSoftware / Hidetaka Miyazaki's critically acclaimed, best selling videogame.
Awakening in an ancient city plagued by a twisted epidemic – where horrific beasts stalk the shadows and the streets run slick with the blood of the damned – a nameless Hunter embarks on a dangerous quest in search of Paleblood.
Cover A: Jeff Stokely
Cover B: Game Art
Cover C: Piotr Kowalski
Cover D: André Lima Araújo
*
DARK SOULS COVER COLLECTION HC
96pp • $29.99 • On sale Date: April 18, 2018 • ISBN: 9781785863981
Hardcover collection of stunning cover artwork and never-before-seen illustrations created exclusively for the Titan Comics Dark Souls comic series. Featuring artwork from legends of the comics industry including Josh Cassara, Nat Jones, Ben Templesmith, Nen Chang and interior artist Alan Quah!
GEARS OF WAR: THE RISE OF RAAM #2
Kurtis Wiebe (W), Max Dunbar (A), Ryan Brown ©, Whilce Portacio (VC).
One of the most iconic villains of the Gears of War universe takes the spotlight! Years before he became the bane of humanity on Emergence Day, RAAM rose through the ranks to take leadership of the Locust Horde armies thanks to his intelligence, strength, and ruthlessness. Now, witness that swift and brutal ascent in... The Rise of RAAM!
32 pages, $3.99.
*
Written by Ian Edginton, art by Eduardo Silva, covers by Yildiray Cinar, Alvaro Sarraseca, Cam Adams.
The finale is here! Gargos is back, and while the Shadow Lord may be vulnerable, he is far from defenseless. Kim Wu and her fellow heroes race against time to defeat this monstrous foe. Meanwhile, ARIA and the Tsar have formed an unholy alliance, and are ready to slay whoever survives this Astral showdown.
32 pages, $3.99, in stores on Feb. 28.
AGENT 47: BIRTH OF THE HITMAN #4
Written by Chris Sebela, art by Ariel Medel, covers by Jonathan Lau, gameplay.
Since taking control of her mentor's criminal operation, Diana Burnwood's life has blossomed into a world of possibilities she could only ever dream of. As her quest for revenge nears completion, her targets begin to fight back with an unlikely ally. Meanwhile, 47, recaptured by The Institute after his attack, goes underground with the remaining Subjects and Dr. Ort-Meyer. Having sacrificed his freedom and his humanity, 47 takes his first steps onto the road to becoming the Hitman.
32 pages, $3.99, in stores on Feb. 14.
INJUSTICE 2 #19
Written by Tom Taylor, art by Daniel Sampere, cover by Dale Keown.
Plastic Man reaches into the Phantom Zone in search of the Teen Titans, trapped there by Superman. A happy reunion seems to be in the cards, but Plas brings back a stowaway and catastrophe follows. An enraged Batman prepares to unleash a secret weapon.
32 pages, $2.99, in stores on Feb. 7.
INJUSTICE 2 #20
Written by Tom Taylor, art and cover by Bruno Redondo and Juan Albarran.
As Amazo battles Zod, Batman hurries to save a dying ally. But in order to save one friend, will he have to kill another? Both alternatives could lead to the resurrection of a forgotten hero from the past.
32 pages, $2.99, in stores on Feb. 21.
WARHAMMER 40,000: DEATHWATCH #2
Writer: Aaron Dembski Bowden
Artist: Wagner Reis
32pp • $3.99 • On sale Date: February 7, 2018
Written by Black Library superstar Aaron Dembski Bowden!
The Deathwatch are the best of the best from all chapters of Space Marines! They alone have the strength of mind and body to battle the alien across the universe, defending humanity frim the Xenos that would destroy them!
COVER A: REGULAR COVER: David Sondered
COVER B: Nick Percival
Los meses de Diciembre y este de Enero:
http://meristation.a.../topic/2923278/
enero:
http://meristation.a.../topic/2924955/