El 14 de septiembre se lanza Everspace en early acces para steam http://store.steampo....com/app/396750 , gog y la store de windows 10.




Para quien no lo conozca es un juego que se lanzó en kickstarter, y ahora mismo está en fase beta. Es un arcade de naves tipo rogue, donde huye de la simulación y se asienta en lo jugable para que se disfrute de todo gracias a su gran control.
Aunque sea rogue-like no se pierde toda la progresión al morir, como en Rogue Legacy cada vez que mueres inviertes el dinero ganado y los diagramas de armas y partes de la nave al inicio de cada partida, ahi decides en que gastar ese dinero, mejorar el escudo, energía, coste de reparaciones, frecuencia de objetos especiales, número de slots para armas, equipo y un largo etc.


Luego dentro de cada partida podremos crear o mejorar armas tanto principales como secundarias así como equipo de apoyo como drones, diferentes tipo de escudos, camuflaje, sensores y otro largo etc de equipación. Tendremos que cambiar constantemente el tipo de armas al afectar unas mas al escudo y otras a la nave, y siempre vigilando el gasto de energía que consumen.
Depende nuestra manera de jugar podremos ir a saco o sigilosamente robando recursos y saliendo por patas de los sectores.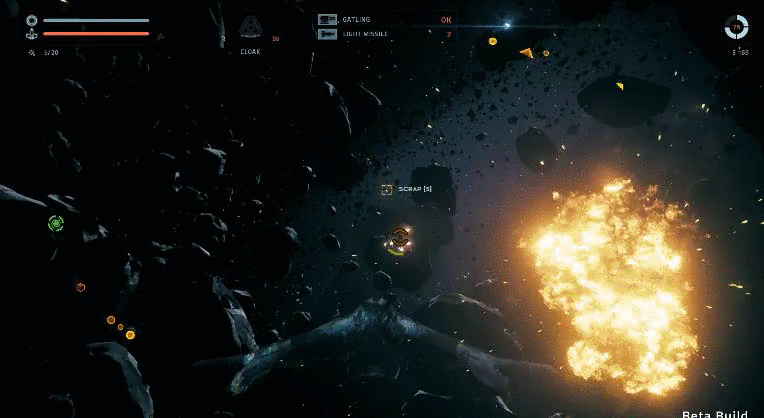 El juego se divide en sectores con diferentes zonas, en cada zona no te puedes entretener mucho para despues buscar los diferentes recursos ya que pasado cierto tiempo apareceran naves mas poderosas a joderte en tu viaje, y algunas son muy hijaputas, dejando como única opción huir como un cobarde.




En la beta la historia está omitida, en la versión final habra una narrativa no lineal para poner en contexto tu viaje espacial. Hay dos tipos de enemigos, alienígenas y forajidos, y luego los terrestres que son neutrales a no ser que les robes o les ataques.
El número de enemigos es suficientemente variada y conforme avanzas de sector además de encontrar nuevas naves enemigas te encuentras las mismas mejoradas al igual que tu nave, con lo que la satisfacción de las batallas no disminuye aun cuando vas mejorando tu progresión.
También hay peligros como agujeros negros, tormentas eléctricas, burbujas magnéticas y mas peligros a añadir.

Luego gráficamente es un juego precioso, donde se disfruta tanto de los viajes como de los combates y que deja estampas preciosas cada dos por tres.
A cualquiera que le guste los juegos de naves en su versión mas arcade que le eche un ojo, a mi me tiene enganchadísimo, 40 horas en la beta, y las que me quedan porque es un vicio.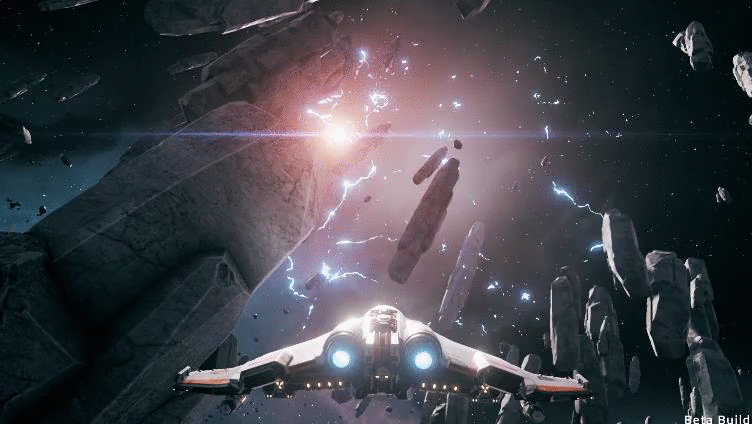 Refloto porque han metido una buena actualización, lo más significativo es una nueva nave y un selector de dificultad.

We've just released a new update which comes with a new player ship! Here is the complete list of changes:

New Features

Added new player ship: Colonial Scout
Added difficulty selection before each run (Easy/Normal/Hard)
Added a few codex entries
Added chance of finding enhanced weapons (weapons with random stat bonuses)
Added new enemy: Okkar Scan Drone
Added new consumable: Nano Injector
Added centered crosshair option for mouse controls (drag mouse to aim, could be useful for custom joystick controls)
Added equipment info tooltips to equipment stats screen (PC / Mac)
Added new "large" asteroid
Added new nebula textures
Added new structures
Added option to switch between Xbox and Playstation style button icons

Tweaks

Replaced Energized Boost with Weapon Overdrive as starting device for Colonial Interceptor
Introduced player ship class restrictions: Cloak is now only available for Colonial Scout, Weapon Overdrive is only available for Colonial Interceptor
Consumables floating in space can now be used directly
Added swappable equipment slots to compare screen for better overview
Game now pauses when using the selection wheel instead of just slowing it down
Jump gates are now activated automatically after some seconds when close
Automatically use surplus nano bots when nano bot limit is reached, health is not full and new nano bots are collected
Slightly increased ship component damage chance
Slightly increased sensor range for containers
Decreased max speed perk effect and added one more level
Increased Plasma Torpedo and Shield Breaker missile damage radius
Slightly reduced Heavy Missile damage radius
Slightly reduced Shock Rifle I & II charge damage multiplier
Added spread to Coil Guns
Increased energy allocation of Mk2 and Mk3 passive devices
Downgraded fire rate mods to put them on par with damage mods
Reduced Energized Boost energy consumption
Increased pickup pull range + pull range for all tractor beams
Increased amount of dark energy needed to craft ARC-9000
Increased Teleporter energy consumption and slightly reduced teleport distance
Slightly increased outlaw sniper aim and doubled uncloaked duration
Okkar Corvettes now travel through the location and are faster
Okkar Corvette Mk1 will now call reinforcements when low on health.
Okkar Corvette Mk2 now fires plasma cannons and uses an Energy Discharger when enemies are close. It also uses combat drones instead of shield charge drones
Freighters now come in different flavors: credits, fuel, equipment, resource and supply.
Grey Goo will now do hull damage to ships that are very close
Changed some consumable icons
Challenges now have different credit rewards that are displayed next to them
Tweaked lightning field VFX
Tweaked sector colors
Blueprints and "enhanced" pickups will now have a special particle effect
Show signal strenghts of all jump suppressors being present, not only closest

Bugfixes

Fixed slowmo not being correctly ended when switching weapons
Fixed bug with selecting an empty equipment slot with the gamepad
Fixed damage not showing in Plasma Mine stats
Fixed player wreck spawning outside of level bounds and if run was successfully finished
Fixed missing Coil Gun weapon meshes
Fixed some keymapping issues
Fixed high frequency tone in a certain ambience track
Fixed "Kill a drone by ramming it" challenge
Fixed bug where failed challenges were achieved when continuing the game
Fixed a bug where outlaw stations would not spawn enemies
Possible fix for GPU particle related crashes
Fixed occasionally wrong explosion impulse direction
Fixed freeze when pressing tab while using jump gate
Fixed hacking sound sometimes not stopping
Nueva actualización

We've just released a new update on Steam and GOG (Mac on GOG is slightly delayed, but will hit soon). Highlights include the 3rd player ship and an overhaul of the perk system. Have fun playing!


New Features

Added new player ship: Colonial Gunship
Added new enemy: Outlaw Drone Carrier
Perks overhaul: Divided into pilot perks and individual ship perks
Added new perks: Trading and Diplomacy
Attacking G&B can result in them reporting your attack and them being hostile in the current and next location
Added two new natural hazards
Added new point of interest: Freighter Wreck
Added more structures
Added option to set a flag for equipment to ignore it when switching to next/previous equipment
Added hall of fame that keeps track of your completed runs
Added backer-written logbook entries
Added new planet type

Tweaks

Interceptor and Gunship now have armor which reduces hull damage by 10% and 20% (what the Hull Enhancer used to do, but doesn't require a device slot)
Renamed "Hull Enhancer" to "Adaptive Armor"
Service stations now only offer one option unless perked with Trading perk
FOV is now being slightly increased while boosting
Slightly tweaked threat levels
Slightly decreased Stasis Missile effect duration
Added Weapon Overdrive blueprint to startup blueprints
Introduced a drone limit of 1. Can be perked to 3 for gunship.
Reduced ore pickup amount
Reduced explosion impulse strength
Increased grey goo NPC speed
Slightly reduced Coil Gun spread
Removed all shield related perks
Removed "store credits" perk
Made sensor range perk scout exclusive
Made jump charge duration perk scout exclusive
Tweaked perks for stronger differentiation between ships
Added more ship class restrictions for equipment
Proximity mines will no longer react to ships of their own faction
Tweaked Mine Cluster behavior
Tweaked jump drive animation
Damage indicator vignette and camera shake strength now depend on the amount of health left
Okkar Corvettes MK 1 can now come with jump suppressors, Okkar Corvettes MK 2 now won't always carry jump suppressors
Prevent more than 2 jump suppressors being active at the same time
Nano Injectors will now consider the nano bot efficiency
Increased Flak Cannon II damage
Increased Weapon Overdrive efficiency
HUD equipment slot tweaks: Display currently active devices with green glow, give currently non-usable equipment red shading
Energized Boost Mk1, Mk2 and Mk3 now have the same duration but increased boost multiplier
Slightly improved Shock Rifle II stats
Added warning and alert sound when close to black hole
Aim assist now works with proximity mines and missiles
The "Devastator" sub-routine now reduces the energy recharge rate rather than allocating energy

Bugfixes

Fixed a bug where wrong consumable icon was displayed in pickup compare screen
Fixed wrong consumable and secondary weapon amounts being shown in player equipment slots of compare screen
Fixed devices with 4 pre-installed mods being spawned
Fixed sun flares not affecting cloaked ships
Fixed sun flares pushing bigger ships out of level bounds
Fixed spread mods not being available for Coil Guns
Fixed premature uncloaking while charging weapons
Fixed pilot seat clipping/blocking view when playing in 1st person view in ultra-wide
Fixed inverted mouse x and y not working when playing with centered crosshair
Fixed perked critical hit chance not being regarded for right-hand item in compare screen
Fixed trader not offering credits anymore (but needs a perk now)
Fixed ships sometimes having damage in hangar
Fixed current ship name not correctly displayed in ingame menu
Fixed Outlaw Sniper not uncloaking when attacked with explosive weapons
Fixed nano bots not being removed in generic freighter repair mission

Las principales novedades son la tercera nave, que va sin escudo de inicio pero lleva una torreta gatling en su lugar, 10 cohetes pesados y 4 drones de combate.

Aparte han dividido las habilidades entre piloto y cada nave específica, además para diferenciar más las naves, ahora hay equipamiento que sólo vale para un tipo de nave.

También han añadido información al codex, dos habilidades más, comercio y diplomacia con G&B y bastantes mas cosillas.
Editado por The Elf, 10 diciembre 2016 - 15:29 .